Benchmarking
Measuring a charity's performance
Lauren Weymouth: It's a surprise how many charities look at their performance after such a short period of time. Almost half (49%) of the charities in our survey claim that poor performance becomes a concern after only a year.
Nick Murphy: This is long-term money. Investment strategies will only meet their objectives over the long term. Some trustees put too much emphasis on comparative benchmarks, when they should be looking at the investment process and seeing whether the investment manager is doing what they said they would do. We want to put together strategies that outperform across a whole cycle, from peak to peak and trough to trough. These cycles can last a long time and there will be periods where an investment manager underperforms. Equally, there will be periods where they outperform.
Lauren Weymouth: Does this surprise some of you who are trustees? Do you look at performance over a year? And do you panic if things aren't going well?
Andrew Wimble: If you're a trustee, you're receiving quarterly valuations, because regulations dictate that you should. And if you see 1% behind the benchmark one quarter and 1% behind the benchmark again the next, you're going to start getting twitchy. We might be talking about investment cycles, which can last a significant amount of time, but if you're looking at valuations and reports every three months, you're going to become uncomfortable very quickly. So yes, one year makes sense; in fact, every quarter makes sense.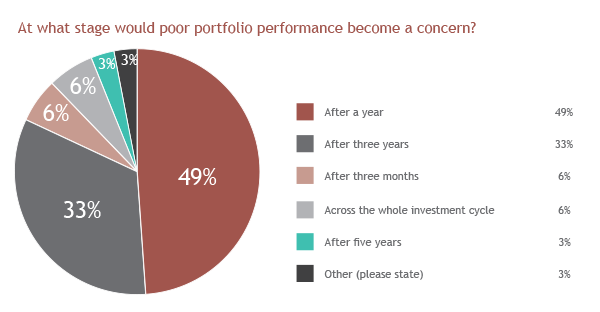 We need to have our finger on the pulse to ensure we are in accordance with how we need to perform.
We come at this from a different perspective, because 100% of the money raised by The European Nature Trust goes to causes. Money used for operations comes from the investment portfolio — so we have to scale up and down depending on what the investment strategies produce. We need to have our finger on the pulse to ensure we are in accordance with how we need to perform.
Susan Wood: We always advise charities that the best long term measure is inflation. If Trustees adopt an inflation plus benchmark it captures the dual objective of aiming to exist in perpetuity while supporting current
grant expenditure. Since an inflation plus benchmark has to be looked at over rolling 3 to 5 years, it also discourages Trustees from being too short term about performance.
Malcolm Munro-Faure: The key is to know your managers, which can be hard when you use intermediaries. You've got to know you're with the right manager, because the cost of moving can be substantial and it's not a decision to be taken lightly. And the risk is that if you panic, you could always move from one that's performing badly to another that's about to perform badly. This means that you have to consider the issues very carefully as there are serious consequences to taking these decisions at the wrong time.
Nick Murphy: You've articulated why it's best not to panic and to actually look at the underlying process. You need to make sure the manager is being candid about what is and isn't working. From a manager's perspective, what I've been pleased to see from the survey results is so many trustees using all three types of benchmark (target returns, comparative index and peer group). It's good to see from our point of view, because they all measure different things. And you know once you start measuring things, you start distorting behaviour. This I think is the perfect solution to make sure investment managers and trustees all align on a long-term basis.
DISCLAIMER
By necessity, this briefing can only provide a short overview and it is essential to seek professional advice before applying the contents of this article. This briefing does not constitute advice nor a recommendation relating to the acquisition or disposal of investments. No responsibility can be taken for any loss arising from action taken or refrained from on the basis of this publication. Details correct at time of writing.
Disclaimer
This article was previously published on Smith & Williamson prior to the launch of Evelyn Partners.