Ethical and ESG
Are ethical and ESG considerations essential for a charity?
Lauren Weymouth: Let's turn to ethical and ESG considerations. It would be good to start by establishing what ethical and ESG are. In fact, there are a lot of different terms contained in those two categories. Is there a difference or are they all essentially the same?
Grant Wilson: Well ethical is a moral view and everyone has different moral views. Pro-life and pro-choice
are diametrically opposite, but they are still ethically held views. I would suggest that people with money
have always put their values and character into their policy. ESG, on the other hand, is a measure. There are about 86 measurable factors and three categories.
Nick Murphy: A large number of our clients have an ethical and ESG policy. This is now very mainstream, so at Smith & Williamson we've incorporated those considerations in the fundamental analysis of stocks. Because those things will have an impact on the fundamental value of a share and we need to be aware of that. There's more and more invested in that space and that will have a bigger impact on the fundamentals and what people are prepared to pay. But I am intrigued as to how trustees are interpreting it and what rules they are using to measure it.
Andrew Wimble: Most charities I've come across have some kind of policy, but it's always very much their own. I sometimes ask, why do you have no tobacco? If you're a cancer charity there's a very black and white reason why you wouldn't have tobacco. But with other charities, are people more likely to give you money because you have a tobacco exclusionary policy? Probably not. But then maybe it affects your donor base or your beneficiaries. A lot depends on the charity. And then, is exclusion the right way to be ethical? Personally, if you don't like tobacco, and for all the right reasons, go and buy shares in it and then use the vote and actually be active. It can be a positive step and I do know a lot of people who take that stance.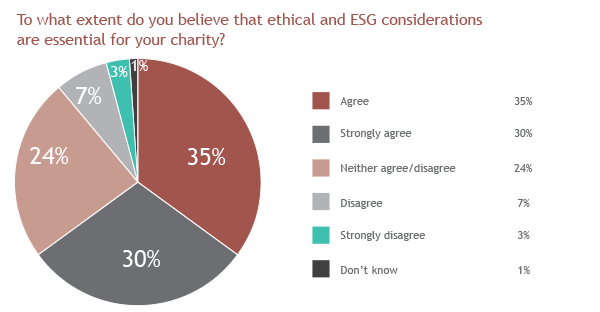 ...reputational risk was listed as one of the biggest risks for charities. And obviously, in today's climate, it's not surprising that charities are worried about their reputations.
Susan Wood: When you think about an ethical policy, as a trustee, you have to disregard your personal prejudice and think about the best long-term interests of the charity. And you shouldn't put in ethical restrictions unless they are relevant to your charity. The problem for a lot of trustees is that they think the opposite of ethical is unethical. And therefore, you have to have an ethical policy. You don't! You need to say in your annual report and accounts that you've considered the matter and you don't think it's relevant for your charity and its stakeholders to impose restrictions on the investment portfolio. The Charity Commission's guidance for trustees is very clear on this.
Malcolm Munro-Faure: That's absolutely right. It needs to derive from the charity's purpose. I used to be a trustee for one charity and we had very definite views. I'm now working for a military charity and we have quite a different perspective. And it's understandable that charities, because they champion particular causes, will have different views about which types of investment are acceptable. Their purpose will help drive what they choose to invest in.
Susan Wood: The Church of England's Wonga scandal was a wakeup call. Even if we're talking about something buried in a pooled private equity fund, the reputational risk can be serious. If an investment contradicts the organisation's purpose, it comes back to reputation.
Lauren Weymouth: Absolutely, reputational risk was listed as one of the biggest risks for charities. And obviously, in today's climate, it's not surprising that charities are worried about their reputations. They may not want to exclude everything, but they need to invest in a way that helps achieve their overall goals.
Susan Wood: I'm sure I speak for others, but to us the biggest surprise has been the speed with which fossil fuel exclusions have taken hold, from absolutely nothing six to seven years ago. But I think a great deal of that activism has been driven by young people and the student bodies. It's an extremely interesting phenomenon. But then I think, if you exclude fossil fuels and tobacco, where's your ability to make income?
Every decision we take has consequences. This underlines the importance of taking care when developing each charity's investment strategy.
DISCLAIMER
By necessity, this briefing can only provide a short overview and it is essential to seek professional advice before applying the contents of this article. This briefing does not constitute advice nor a recommendation relating to the acquisition or disposal of investments. No responsibility can be taken for any loss arising from action taken or refrained from on the basis of this publication. Details correct at time of writing.
Disclaimer
This article was previously published on Smith & Williamson prior to the launch of Evelyn Partners.