Risk
What are the biggest risks for a charity?
Lauren Weymouth: 42% of charity decision makers think funding is the biggest risk to their organisation. From a charity perspective, are there any new options that you've tried or considered?
Andrew Wimble: There's a lot of talk about social bonds, but they are what I would still describe as niche. It will takea while before they become a major funding method.
Malcolm Munro-Faure: I think it's all about trying to capture people's attention. Charities are looking at new ways of connecting with people, because it's so much more difficult to initiate a contact with people these days. You have to encourage people to come to you and say, "I'm very interested in what you do." It's about writing your story and promoting it as much as possible in a wide range of media.
Andrew Wimble: A good example of that was Help for Heroes. A charity that went from zero to big numbers very quickly. And it was done on the back of the most amazing marketing campaign. For the first time, here was a military charity appealing to young people with a simple strapline and high profile events. It suddenly got a whole new generation involved. Using newspapers and social media outlets was also something other charities hadn't really done before.
Nick Murphy: A phrase from one of the respondents was, "A whole new generation is key for all charities". It's an important message. The average age of donors is getting older and older. And it's vital to get the millennials in and get them interested. That's how new charities will grow.
Andrew Wimble: The thing about millennials is that they are green conscious. There are behaviours that young people today would find completely unacceptable. Adrian Wild: What we've been discussing here is a voluntary funding base. But a lot of the sector's funding comes from the government. Aren't changes to government funding a significant risk for a lot of charities?
Susan Wood: I'm the trustee of a charity operating out of Tower Hamlets. And it's interesting to note that the grant applications we've received over the past five years have increasingly been from areas where the council would have provided funding. That money just isn't there anymore.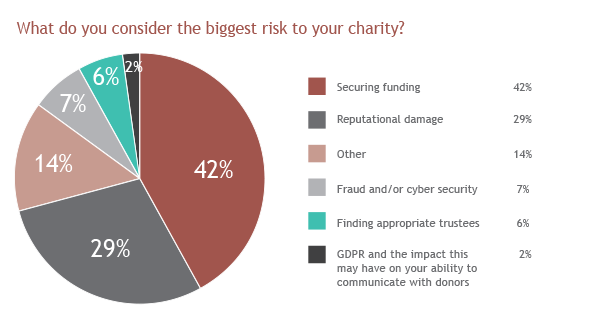 Lauren Weymouth: Before we move on, I just noticed that no one has mentioned Brexit. Is that a concern? A number of charities said they were worried or quite worried about Brexit. What are your thoughts?
Malcolm Munro-Faure: Brexit may well have a significant impact in different areas for different charities. For us, the main issue is staffing, because we require well qualified nurses and health care assistants. We're dipping into the same pool as the NHS in that regard and many potential employees come from the EU. That means there may well be challenges in terms of recruitment and even retaining the staff we already have.
Nick Murphy: From an investment point of view, there are things we worry about more. There will be a new equilibrium, it's just that no one knows what that is. Until we know what the deal is, there's very little we can do to prepare except underweight domestically focused business. I think from an operational point of view, there is some European funding that will probably disappear and some charities will be more affected than others.
Speaking as a Trustee of a charity myself, I notice that the grant applications we've received over the past five years have increasingly been from areas where the council would have provided funding. That money just isn't there anymore.
DISCLAIMER
By necessity, this briefing can only provide a short overview and it is essential to seek professional advice before applying the contents of this article. This briefing does not constitute advice nor a recommendation relating to the acquisition or disposal of investments. No responsibility can be taken for any loss arising from action taken or refrained from on the basis of this publication. Details correct at time of writing.
Disclaimer
This article was previously published on Smith & Williamson prior to the launch of Evelyn Partners.