Innovation key to funding post-Brexit Britain
Entrepreneurial belief in access to funding and interest in borrowing is at a low – but is anxiety overshadowing a receptive market?
Entrepreneurial belief in access to funding and interest in borrowing is at a low – but is anxiety overshadowing a receptive market?
Scale-up businesses have little interest in borrowing and believe that funding is in short supply.
Our research shows that entrepreneurs have low confidence in finding the funding they need since the referendum vote, with 41% of respondents believing that access to funding is improving and only 37% looking to borrow over that period.
Perception vs. reality
The dampening of the market appears to be more expectation of problems ahead rather than reality of available finance right now. The uncertainty of Brexit, coupled with a tumultuous political system and rising inflation is likely to be weighing heavily on the minds of many business leaders.
Anecdotal evidence is indicating that there is money there for the right business, with CityAM recently highlighting that businesses are looking at a near record year for the M&A market. Ultimately, businesses are still looking to scale up but are less confident in the world around them and the ability of financial institutions to support them. However, there are so many alternative forms of finance available that the right business with the right story can still achieve successful rounds of investment.
Funding your business: avoid these common mistakes
Is your appetite for borrowing greater or less than three months ago?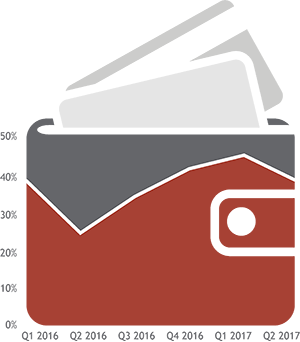 Innovative funding for innovative businesses
Research indicates that scale-ups are changing tack, increasingly using external finance and business funding to grow rather than just sell. While many still use traditional forms of financing, entrepreneurs are keen to explore new sources.1
Conversely, our own findings show that entrepreneurs are currently not confident about sourcing this funding. This is a problem; scale-ups have already shown their capacity to generate jobs and growth and, on a larger scale, to support the health and strength of the UK economy. If scale-ups do not receive this support, it is likely that our economy will suffer, as growth dries up and talent moves away from the UK.
More needs be done to help scale-ups: to support them in making the decisions they need to grow, and in finding the financing they need to realise their plans. This may require new and innovative forms of funding to be created following the Patient Capital Review, such as regulated crowdfunding.
However, simply ensuring that business leaders remain aware of the traditional areas of funding open to them, and the benefits, costs and consequences from using them, could develop the scale-up ecosystem.
Funding: fight the fear
It is vital that entrepreneurs and business leaders take emotion out of their business decision-making process. Irrational uncertainty and fear should be kept to one side, scale-up leaders need to analyse potential business growth using the concrete information available to them.
Access to funding may be perceived to be harder at present; currently only a third of business leaders believe adequate funds are available. On the other hand, anecdotal evidence, from our corporate finance and investment management teams, indicate the market has large numbers of individuals and institutions looking to invest in high growth companies.
Funding growth: Finding the right partner for your business

In this environment, quality is key to accessing funding, particularly in terms of the business pitch and its long term prospects. Funding is available for high potential businesses.
On a human level, it is understandable: early stage businesses are potentially more liable to market shifts which can be accentuated by Brexit and they may want to wait and take stock before making any funding decisions. However, businesses in a growth cycle will not be able to stay still for long and should take a long term view; Brexit should not stop entrepreneurs looking for funding.
1. http://www.scaleupinstitute.org.uk/wp-content/uploads/2017/07/ScaleUpInstitute_SME_Finance_Monitor_2017_MID_RES.pdf
DISCLAIMER
By necessity, this briefing can only provide a short overview and it is essential to seek professional advice before applying the contents of this article. This briefing does not constitute advice nor a recommendation relating to the acquisition or disposal of investments. No responsibility can be taken for any loss arising from action taken or refrained from on the basis of this publication. Details correct at time of writing.
Disclaimer
This article was previously published on Smith & Williamson prior to the launch of Evelyn Partners.