Tech sector shrugs off election and Brexit worries
Tech businesses give their opinions of the year ahead as confidence appears to be booming.
Tech businesses remain optimistic about their prospects over the next 12 months according to recent research from Smith & Williamson, the accountancy, investment management and tax group.
Nearly 90% of tech businesses were optimistic for their own prospects for the next 12 months with over half (55%) expecting the economy to improve in the next 12 months.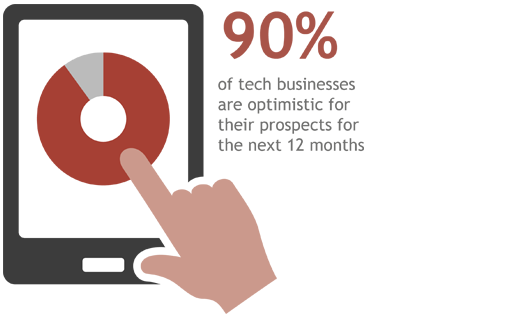 "There is a growing confidence within the tech sector that a lot of what they do is protected against large macro events. Brexit, the US elections and now the UK elections have not stopped the rise in share price of Alphabet, Facebook and the like. Smaller tech companies, particularly those involved in digital are beginning to feel the trickle down effect of this," said Fergus Caheny, partner and head of technology at Smith & Williamson.
"Digital technologies, particularly areas such as artificial intelligence, virtual reality or Internet of Things, have such a large market potential that there are a number of smaller companies prospering. Unlike, perhaps in other industries, the larger companies are happy to engage with these smaller businesses as they provide the nimbleness and drive that they may lack."
"A big company, such as Apple, can provide financial and intellectual support that can really make a huge difference. This dynamic is becoming far more common as both sides realise the intrinsic benefits in doing so."
Tories take heart: SMEs enter election season on a wave of optimism
Healthy trading partners for tech companies
There was a 20% rise in confidence over tech businesses trading partners, nearly two thirds (61%) believe that their financial health is improving. In addition, 80% of businesses that export thought that their turnover would increase over the next 12 months.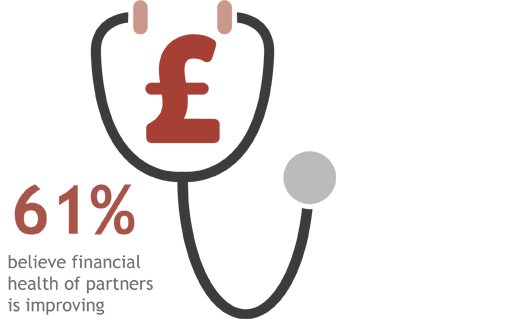 "This is a very powerful sign of the underlying confidence within the tech community. The decline in value of the pound has had some negative impacts but it has brought investment from big American companies who have identified the high standard Britain has within a number of digital tech spaces."
"Crucially, the disruptive nature of the tech industry could be what helps buffer it against any Brexit or Election headwinds. Unlike a lot of other industries, tech doesn't necessarily come up against geographical borders and, with the UK already a leading expert, should be an area that could thrive in the future."
Cryptocurrencies: investment or currency?
Despite Bitcoin approaching the record $3k barrier only 41% of our respondents believed that cryptocurrencies would become a widely accepted payment method over the next five years. Commentators are seeing this rise in bitcoin value as a sign that the currency is beginning to gain traction with institutional investors.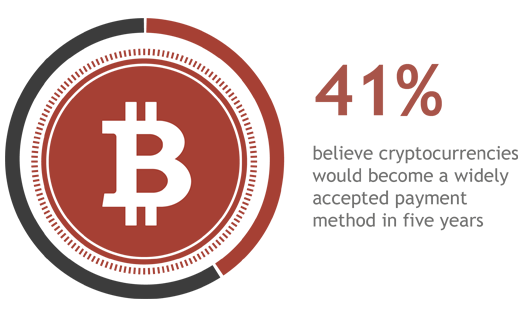 "The main issue with some cryptocurrencies are that, in many ways, they're not accessible to the mass of population. A lot of people don't understand them and for Bitcoin to establish itself as a form of currency that needs to change."
Research conducted Q1 2017
DISCLAIMER
By necessity, this briefing can only provide a short overview and it is essential to seek professional advice before applying the contents of this article. This briefing does not constitute advice nor a recommendation relating to the acquisition or disposal of investments. No responsibility can be taken for any loss arising from action taken or refrained from on the basis of this publication. Details correct at time of writing.
Disclaimer
This article was previously published on Smith & Williamson prior to the launch of Evelyn Partners.