The 6 key pillars of effective financial planning for company executives
The 6 key pillars of effective financial planning for company executives
As a company executive you are likely to have complex financial circumstances. Personal wealth is often tied to the fortunes of the company you work for, with a large portion heavily weighted to the performance of the company's stock and your main retirement benefit also dependent on the success of the company. Your time is often so consumed by your work that perhaps little thought is given to your financial future.
Financial planning for company executives therefore must address not only the basic elements, but also a number of complex distinct areas such as unique pension provisions, understanding the risks, as well as the rewards, of employee share schemes and how to incorporate benefits into your overall financial plans.
At Tilney we recognise that effective financial planning for company executives requires a specialised approach. The principal goal of executive financial planning is to provide financial peace of mind and we approach this by focusing on six key pillars.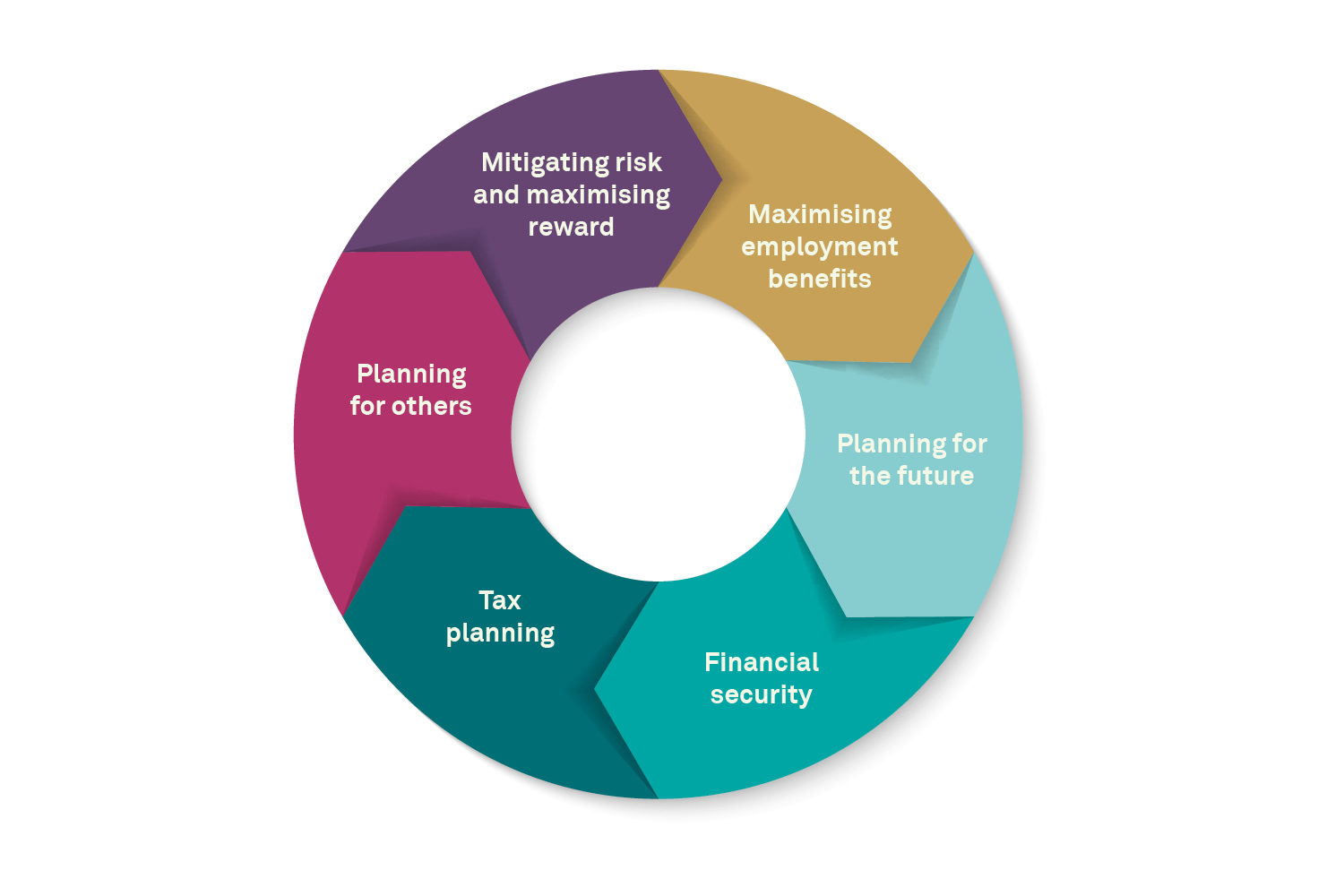 1. Maximising employment benefits
Our relationship begins with a thorough understanding of you, your objectives, needs and goals, and your family. Another aim of this initial step is to gain a better understanding of the employment benefits you're entitled to.
It is often the case that company executives generally enjoy more substantial compensation, benefits and rewards than other employees and although certain areas of an employment contract are standardised across all employees, company executives will have certain elements specifically applicable to them.
A company executive employment agreement therefore plays a key role in financial planning and, from the outset, we encourage a thorough review of entitlements.
2. Planning for the future
Financial independence is perhaps the most common financial objective for company executives. It is often believed that planning for the future is just another phrase for retirement planning but nowadays the age at which you can retire is often unknown. Therefore, the main aim of planning for the future is to achieve financial independence – thereby giving you the flexibility to determine when you want to retire.
At Tilney, planning for the future begins with the creation of a financial plan. We will also use cashflow modelling to outline the impact different scenarios would have on your finances, whilst at the same time incorporating all the various areas of your financial portfolio, including employee benefits.
With a financial plan in place, you will be better placed to focus on your goals and understand what it will take to reach them. It also helps you to stay on track during periods of uncertainty.
3. Financial security
There are two areas of focus here – professional security and personal security. Professionally, it is important for company executives to protect themselves from the possible demise of a company. Company executives will often have a large portion of their wealth exposed to the company they work for – whether that is in the form of equity-based incentives, or vested shares, or their pension. It is important to recognise the pitfalls of financial overexposure to an employer. Planning will help mitigate this risk.
Financial protection should be one of, if not the most, important consideration for a company executive but surprisingly it is an area which is often forgotten. Financial protection provides security by ensuring that if the worse was to happen, any shortfalls are met. Financial security forms part of the planning process and we will review an individual's existing position, including the benefits received from their employer, as well as any personal policies in place.
4. Tax planning
The UK tax system is notoriously complex, but the benefits of structuring your finances in a tax-efficient way can be huge. We can help you to do this, whilst ensuring you can make the most of available allowances so you won't pay any more tax than you need to.
The more tax you pay, the harder your investments must work to achieve the same returns. Our financial planners can structure your investments – from using simple accounts such as ISAs, to taking advantage of your annual Capital Gains Tax allowance and setting up complex tax-advantaged investments, if appropriate to your circumstances.
Prevailing tax rates and reliefs depend on your individual circumstances and are subject to change.
5. Planning for others
It is rare that we will only focus on the individual. Financial independence for a company executive will often include supporting dependants, other family members, charities or similar organisations. All of these additional, important objectives will be considered and incorporated into the financial plan. Cashflow modelling can forecast the financial impact regular gifts or a large gift will have and demonstrate how much money you will need to maintain your lifestyle, while taking into account other potential expenses.
6. Mitigating risk and maximising reward
Working with our award-winning investment management team, the last planning process for company executives is to establish a suitable investment vehicle. We offer a range of services that allow our experts to manage your investments in line with your wishes. Often company executives are not necessarily averse to taking risks with their money, but they are sensitive to losses. We create portfolios that benefit from rising markets but aim to limit losses when markets fall.
Each portfolio is specifically designed and tailored to meet your return objectives, whilst also taking into consideration your sensitivity to risk.
The value of an investment may go down as well as up, and you may get back less than you originally invested.
How Tilney can help
At Tilney we have a nationwide team of financial planners and investment managers who are experienced at helping company executives meet their financial goals. Please do get in contact if you would like discuss your specific circumstances and find out more about how we can help you. You can call us on 020 7189 2400 or book an initial consultation.
Disclaimer
This article was previously published on Tilney prior to the launch of Evelyn Partners.