Lock-up
The importance of cash
The importance of cash
Law firms reacted promptly and effectively to shore up their finances in the face of the coronavirus outbreak. Most of them reduced drawings for partners and put staff on furlough where appropriate. Many were talking to their banks, extending overdraft facilities and ensuring they had sufficient cash to keep the lights on and pay staff costs as the crisis hit.
For most firms, this also extended to examining their work-in-progress. They analysed their client base, reviewed which clients to put on hold (so as not to build up more liabilities) and where it was appropriate to try and collect debts. Many worked out payment plans with clients and managed to keep cash coming through the door. 
Where law firms were less effective – as has been the case for many years – is in moving to bill clients more frequently, keeping work-in-progress low and letting clients know how much they have outstanding. This is perhaps understandable: lawyers are experts in law, not in financial management and these can be difficult conversations to have with clients.
However, clients usually welcome the transparency. They want to know how much they are going to be billed and when. Increasingly, lawyers will deliver a quote ahead of time, but even here, lawyers have not always been effective at telling clients when they are facing over-runs. This is an important area where firms should ensure that fee earners are equipped with financial management skills early on in their career.
Capable financial professionals are entering the legal world. However, for the most part, they have not had sufficient influence at board level although they are often present at board meetings. This may mean financial professionals don't have the clout to enforce better management of work in progress. 
There remain many financial pressures on law firms – from technology investment, to increased competition, to higher staff costs. Law firms have repeatedly said that better management of lock-up is an option to finance these investment areas. These investments, particularly on technology, may need to be a greater priority in a
post-coronavirus world.
There is another key incentive for lawyers. Proper management of lock-up may mean that partners can resume normalised levels of drawings. Proactive management of work in progress and a focus on debt collection should be seen as an easy win for law firms at a vulnerable moment.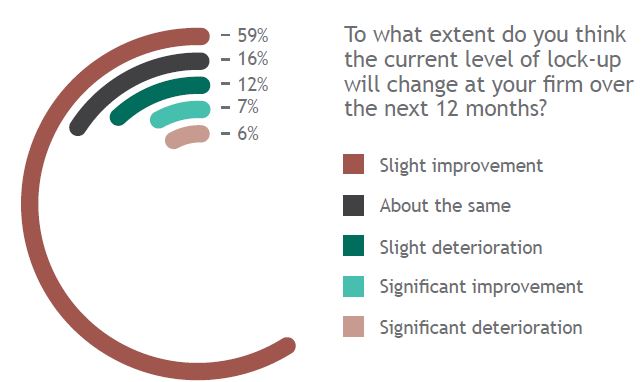 Download the Law firm survey 2020
DISCLAIMER
By necessity, this briefing can only provide a short overview and it is essential to seek professional advice before applying the contents of this article. This briefing does not constitute advice nor a recommendation relating to the acquisition or disposal of investments. No responsibility can be taken for any loss arising from action taken or refrained from on the basis of this publication. Details correct at time of writing.
Disclaimer
This article was previously published on Smith & Williamson prior to the launch of Evelyn Partners.