Financial education
The link between financial anxiety, stress and lower productivity in the UK is increasingly apparent. Financial education as an employee benefit is on the rise.
Traditionally, the business model for employer-led financial education was to increase the awareness and understanding of existing employer sponsored benefits. This was sufficient for generations of savers but, in an era of freely available low or no cost credit, and as employers adopt a broader view of duty of care, it is a narrow solution to addressing 'real life' issues and concerns.
The financial needs of employees are changing and benefits provided by employers need to encompass liabilities as well as assets. For example, educating employees on how much they need to save for their future/retirement will not have the effect of engaging them in increasing savings when, often unknown to you, they are struggling to pay their debts and meet outgoings.
Growing financial pressures
There is a vast amount of evidence that demonstrates why UK employees are stressed about their finances: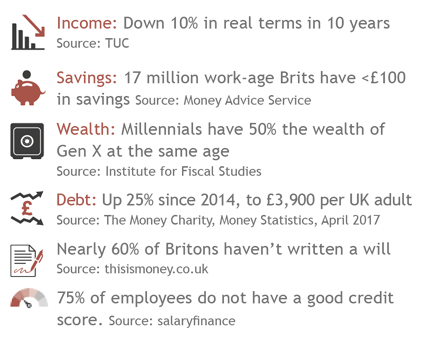 Addressing financial stresses
Increasingly the link between debt, money worries and stress, lower productivity and absence are being recognised by employers, who are now investing in wellbeing and educational programmes for their employees.
For the one in four employees* who are suffering some sort of financial distress, personalised and timely financial education can improve their understanding of, confidence with and organisation of their finances. Over time, this means fewer distractions at work and more focus on the job, as well as loyalty to the employer.
Our financial programmes are now our fastest growing business area. These programmes include lunch-and-learn sessions for specific groups, such as retirees, indebted younger generations and school leavers. This is not just limited to larger corporates with the budget to support wide ranging programmes; SMEs and charities are also very interested in providing this kind of support, alongside traditional benefits packages.
Alongside the improvement in financial understanding, confidence and organisation noted above, if these programmes can also engender behavioural change - moving from a debt to 'savings first' mentality - a positive impact on mental wellbeing can also be achieved.

DB transfers have hit the headlines but many remain unsure about what they are, how to evaluate if a transfer is appropriate for them and how to organise a transfer.
If you or your staff would like to know more about these or our other capabilities contact Steve Cave to discuss how a workshop could help.
DISCLAIMER
By necessity, this briefing can only provide a short overview and it is essential to seek professional advice before applying the contents of this article. This briefing does not constitute advice nor a recommendation relating to the acquisition or disposal of investments. No responsibility can be taken for any loss arising from action taken or refrained from on the basis of this publication. Details correct at time of writing.
Disclaimer
This article was previously published on Smith & Williamson prior to the launch of Evelyn Partners.