Weekly macroeconomic and market update 22 February 2016
Weekly macroeconomic and market update
There could be further ECB stimulus on the horizon
Minutes from the European Central Bank (ECB) policy meeting reinforced the view that March's meeting may result in further stimulus. ECB President Mario Draghi previously struggled to get agreement for aggressive action, which resulted in December's lacklustre stimulus measure (dubbed "Draghi's disappointment"). But the minutes from January's meeting showed all members agreeing that the policy "needed to be reviewed and possibly reconsidered". This is likely to mean a further cut to the interest rate, currently at -0.3%, and a potential increase in the size and scope of the quantitative easing programme – although this could be more controversial, particularly for the German Bundesbank.
This came as economic indicators highlighted potential cooling in the region. The ZEW Economic Sentiment reading for the Eurozone slowed from 22.7 to 13.6 in February, though this was ahead of an expected fall to 10.3. Focusing on Germany, the ZEW Current Conditions reading slipped more than expected from 59.7 to 52.3 (55.5 was expected), but the sentiment gauge remained just about positive with a reading of 1 (from 10.2 in January, and despite an expected collapse to 0). Consumer confidence also fell sharply and more than expected, from -6.3 in January to -8.8 in February. However, it's worth noting that Europeans are clearly a pessimistic bunch, as the scale – which runs from +100 to -100 – has only been positive briefly and only slightly, peaking at 2.4 in the year 2000.
UK economic data released as a potential Brexit looms
As David Cameron struggled to secure a deal with the EU, economic data in the UK was encouraging. Retail sales figures for January surged 2.3% month on month (5.2% year on year), reversing the -1.4% fall in December and well ahead of expectations.
Employment data was also reasonable, with no change to unemployment at 5.1% but another unexpected fall of 14,800 in the claimant count. Average earnings in December were a respectable 1.9% (though slightly down on 2.1% previously). Inflation ticked up to 0.3% year on year in January, although core inflation was slightly lower at 1.2% from 1.4%.
Last week's other events
In the US, industrial production improved to 0.9% month on month in January, up from -0.7% in December and ahead of an expected +0.4%. Producer Price Index was also up +0.1% month on month, ahead of expectations for a -0.2% fall. Consumer price inflation benefited from base effects to surge to 1.4% year on year in January from 0.7% in December. Core inflation ticked up to 2.2% year on year, which could be good news for the Federal Reserve (Fed), even as the "five-year, five year" inflation outlook remained weak.
The Organisation for Economic Co-operation and Development cut the global growth forecast by 0.3% to 3.0% for this year.
Japanese machinery orders rebounded 4.2% month on month in December (-3.6% year on year) from a -14.4% fall in November (1.2% year on year).
The markets
In the absence of much substantial news flow, equities regained some of their poise whilst bonds and commodities were fairly unchanged on the week.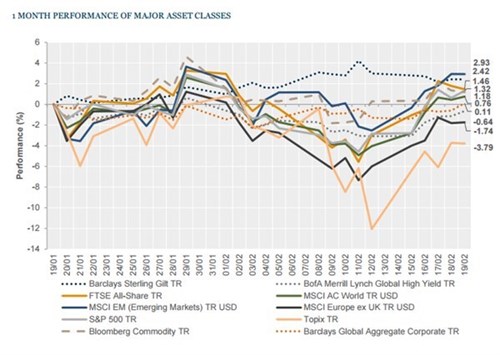 Equities – Equity markets rebounded from their recent weakness, and the Japanese Topix was the strongest market on the week. Having suffered double-digit losses last week, it finished up 8% after a sharp rebound on Monday. Other markets also made gains – in the UK the FTSE All-Share was up 4.1%, whilst in the US the S&P 500 advanced 2.9% and European equities (FTSE Europe ex-UK) returned 3.6%. Elsewhere, in the Far East Hong Kong's Hang Seng index gained 5.3%.
Bonds – There was very little movement on sovereigns bonds overall. UK 10-year Gilts were just 1 base point down to 1.42% and US 10-year Treasuries were unchanged at 1.74%. German 10-year Bund yields were a little lower, falling from 0.26% to 0.21% as markets started to consider further rate cuts in the near future. Similarly Japanese 10-year bond yields fell but remained just about positive at 0.01%.
Commodities – There was no significant change in the oil price overall last week, with Brent Crude ending at US$33.01 a barrel. Copper was a little improved to US$2.08 a pound, whilst gold was last at US$1,230.40 an ounce.
Currencies – Sterling was weaker across the board through the week, down 2.52% against a resurgent Japanese yen, 1.60% against the US dollar and 0.73% against the euro.
The week ahead
We have another week with relatively light scheduled releases, with Flash PMI readings the main focus. On Monday morning, Flash PMI readings for the Eurozone are released, with minor softening expected (Manufacturing PMI is expected to be 0.3 points lower to 52, whilst Services PMI is expected to fall 0.2 to 53.3). In the afternoon the US manufacturing PMI is forecast to be 0.1 points lower to 52.4, while on Wednesday the services PMI measure is expected to be up 0.2 points to 53.5. On Thursday US durable goods orders are forecast to have rebounded, showing month-on-month growth of 2.9% in January from a -5.0% fall in December. Elsewhere:
Monday is fairly quiet, with only Eurozone Manufacturing and Services PMIs in the morning and US Manufacturing PMIs in the afternoon. On Tuesday morning the IFO surveys of the German business climate are released, with a forecast slowdown from 107.3 to 106.7 due to softening sentiment for both current conditions and the outlook. In the afternoon, there is US housing data with house prices expected to be up 5.8% year on year in December, and 5.35 million existing home sales forecast. US consumer sentiment from the conference board is also due out, with expectations for a slip from 98.1 to 97.3.
Hot on the heels of existing home sales on Tuesday, Wednesday brings us new US home sales (520,000 forecast in January, down from 544,000), along with the latest changes in oil storage levels.
On Thursday German consumer confidence is forecast to show a very slight slowing from 9.4 to 9.3, and will be released along with German retail sales figures. UK house prices are also released, and later in the morning the UK Office for National Statistics will update both the final-quarter GDP estimate and the quarterly business investment growth rate. Then, last thing in the evening Japan releases inflation data.
UK consumer sentiment data is out first thing on Friday morning, and is expected to be 1 point lower to 3.0. This is closely followed by house price data from China. Later in the morning Eurozone business confidence is reported, whilst in the afternoon the fourth-quarter US GDP revisions are released, as well as data on personal income and expenditure.
Disclaimer
This article was previously published on Tilney prior to the launch of Evelyn Partners.